Welcome to Anesthesia Billing Inc.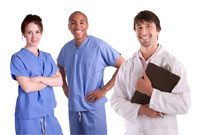 Finally. Pain Relief for Pain Relievers.
Anesthesia Billing is an independent billing service for anesthesia professionals only. By specializing in a single field, we provide better service than other, more diversified firms. No one knows more about constantly changing regulations and other factors that are unique to your profession. No one can eliminate the headaches like Anesthesia Billing. Take the pain out of patient billing.
Our purpose is to provide quality and effective billing alternatives at an affordable and fair price, for health care professionals who specialize in anesthesia and pain management. We take great pride and a sense of "ownership" with every client. With Anesthesia Billing, Inc. as a professional partner, we can provide you with the accounts receivable management expertise you desire.
---
Our Goals:
To provide the most efficient and economical patient accounts receivable management alternative.
Ensure maximum return of collectible dollars.
Strengthen the "doctor/patient" relationship.
Ensure third party payer's compliance of proper processing and handling of charges.